TeknoFlas.com – Beberapa waktu yang lalu Microsoft memberikan update terbaru Windows 8 ke Windows 8.1. File update Windows 8.1 memiliki ukuran yang cukup besar sehingga waktu yang dibutuhkan untuk download cukup lama. Apalagi rilis Windows 8.1 dilakukan secara serempak seluruh dunia.
Masalah yang terjadi biasanya adalah baik komputer, notebook, ataupun tablet tidak menunjukkan pesan untuk update Windows 8.1 atau Windows RT 8.1. Dikutip TeknoFlas dari Jalantikus, Jumat (18/10/2013), berikut bagaimana cara download update Windows 8.1 di PC jika kamu memiliki masalah menemukan updatenya di Windows Store dari RedmondPie:
Pastikan kamu sudah memenuhi persyaratan untuk update Windows 8.1 dengan memiliki beberapa update pada komponen di Windows Update seperti gambar dibawah ini.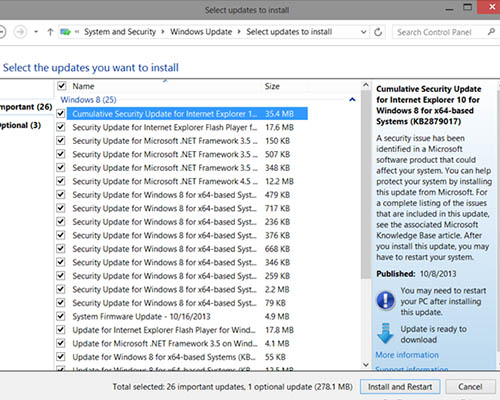 Buka Internet Explorer di PC kamu
Paste link ini di kolom url : http://windows.microsoft.com/en-us/windows-8/update-from-preview# . Pada halaman ini akan menunjukkan beberapa langkah yang kamu butuhkan untuk update ke Windows 8.1.
Pilih I installed the preview from the Windows Store or I Installed the preview using media while Windows 8 was running, lalu pilih link from the Windows Store. Dari sini harusnya kamu telah bisa mendownload update tersebut, dan jika masih tidak bisa akan menampilkan halaman 403 error.